Melatonin is not an over-the-counter drug and is still being sold on e-commerce platforms and a few pharmacies without prescriptions.
The number of people facing anxiety issues and mental health problems has increased substantially in the past two to three years.
Psychologists say that the pandemic took a toll on many people and some were unable to cope with everything going around the world.They started having panic attacks, anxiety, and even insomnia.
The availability of sleeping tablets was seen as a sign of relief for some as they were able to buy them online and at a few pharmacies without any prescriptions. The sales person at a medical store in Dasarahalli and a few stores in Vijaynagar were selling it over-the-counter.
Arushi (name changed), a master's student in linguistics and an avid painter, consumed the sleeping tablets for a few months last year; she was having persistent anxiety attacks and was taking medicines for the same. She said that even without a prescription she could get the tablets as her father is a general physician and he knew sellers at the pharmacy.
Why consume Melatonin?
People usually consume melatonin when they have trouble falling asleep or staying asleep. People with jobs that have a disruptivesleep cycle also tend to consume the pills to get a good sleep. Usually, they tend to do alternative day and night shifts due to which they find it difficult to fall asleep during night hours as the body clock gets reversed.
Reports show that doctors are also studying to see how melatonin may help in conditions like high night time blood pressure, Alzheimer's, and sleep problems in children with autism spectrum disorders.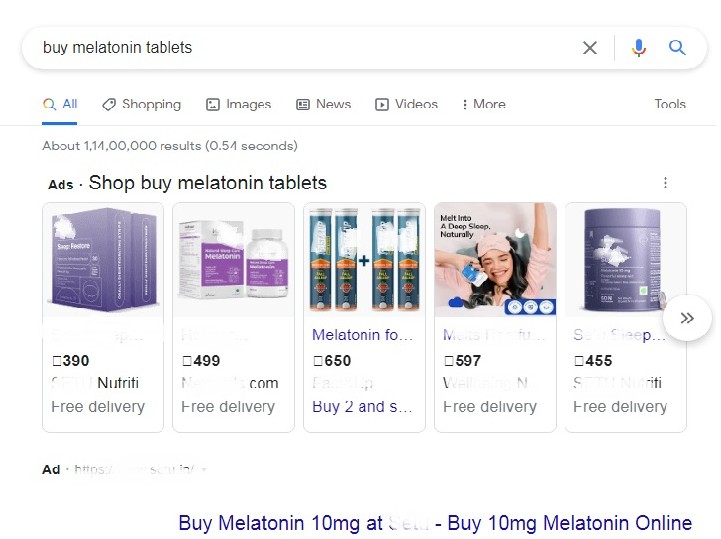 Legal Implications
Advocate Prajjwal Sharma said that the sale of a prescribed drug in any pharmacy or an online store can lead to cancellation of their license and penalty can be imposed on them. He also said that the regulatory bodies have taken steps to regulate the sale of drugs but due to the online market being so vast it becomes difficult for them to do so. "Even for the pharmacies, many times a drug is sold without prescription due to lack of execution on ground level," he said. He added that a robust mechanism must be put in place to control its sales. Dr. Anish Desai, founder and CEO at Intellimed Healthcare Desai had similar views like Sharma, "Online is an open system," he said "and hence it is difficult to regulate."
"People tend to sell them for profits," said Nimesh George, a psychologist. Like Sharma, he also said that there is a lack of supervision. Every pharmacy is supposed to get a B. Pharma license, he said that often pharmacies loan the license to other pharmacies in return of monetary benefits and they might take advantage of that and sell the drugs without prescription.
Health and safety aspects
Abhay (name changed), a data analyst, said that he has night shifts for almost 15 days in a month, due to which he faces issues in falling asleep at night. He blamed his poor lifestyle and work stress for consuming the tablets, as it helped in releasing stress and falling asleep easily. He had consulted a doctor who prescribed him the medicines for a week. However, he said that he has consumed sleeping tablets without a prescription. They made him feel drowsy and eventually, he falls asleep.
George also said that lockdown did create a sense of panic and anxiety in people which might be a reason for them to consume the pills. Dr Simmi Dang, a general physician,explained that people mostly consume melatonin for insomnia, depression, any chronic pain,or dementia. However, long term consumption of melatonin can lead to the reduced natural production of melatonin in the body, other symptoms like dizziness, nausea, headache, abdomen cramps, and tremors, and low blood pressure can also occur due to the same. She also said that it slows down the body.
A Healthline report also states that melatonin can cause a slight drop in body temperature, it may also reduce blood coagulation, and if combined with other drugs it can cause adverse effects on memory and muscle performance. A few of them have not been thoroughly researched yet.
World Sleep Day is a global awareness event held annually on March 18 and hosted by World Sleep Society since 2008. It is an is an annual event, intended to be a celebration of sleep and a call to action on important issues related to sleep, including medicine, education, social aspects and driving. It is organized by the World Sleep Day Committee of the World Sleep Society and aims to lessen the burden of sleep problems on society through better prevention and management of sleep disorders.