Cricket continues to be a leader in the industry with a 70 percent share, while other sports try to compete.
Title sponsor's sticker with a big logo on the abdomen. A sticker on the opposite side of the heart. Stickers on both the sleeves and a sticker each on the left and the right thigh. A sticker or two on the back of the jersey and some letters scratched on the helmet.
The Indian Premier League (IPL) has sanctioned six commercial logos on playing t-shirts, two on trousers and two more on the headwear. The number of sponsor logos permitted might not increase, but the revenues for teams from such sponsorships are increasing each year.
A report by Sporjo (sports-related employment agency) and the Federation of Indian Chambers of Commerce and Industry's (FICCI) Sports Careers in India mentions thatthe revenues of the sports media (on-air advertisements) and sponsorship industry have increased from ₹ ? 81 billion in Financial Year (FY) 2019 to ₹ 95 million in Financial Year 2020. The revenues have grown at a Compound Annual Growth Rate (CAGR) of 14 percent over the last five years.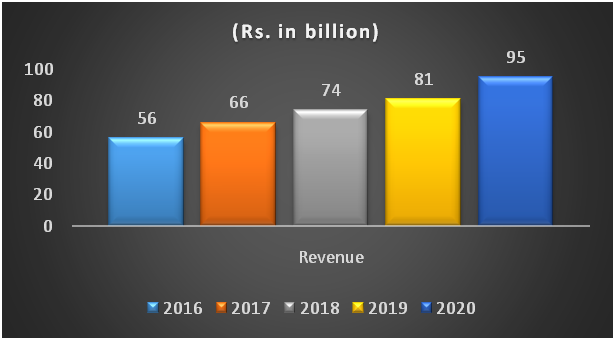 Media spends, primarily in the nature of advertisement spends, were the largest contributors to the industry with 55 percent. Team and ground sponsorships were a distant second with 30 percent.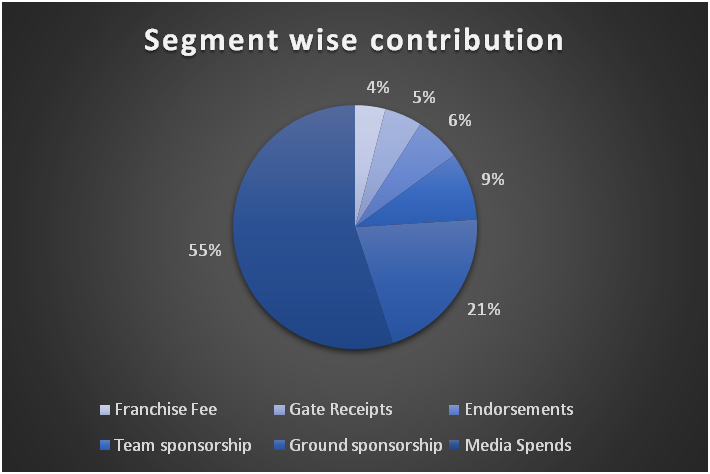 The report explained that the rise of multiple franchise-based sporting leagues, increased demand and consumption of sports in India, and government and private sector initiatives have led to the growth of the Indian sports ecosystem.
Akshay is a product marketing manager at Eleve Media Private Limitedand he specializes in marketing for the sports industry. He said, "In a big event, sponsors will have a limited opportunity as compared to on-air advertisers. You can compare it to brands advertising at the Super Bowl instead of sponsoring a Super Bowl team. Also, a lot more things are required to be considered while sponsoring an event or a team when compared to advertising, as the content for advertising is already created."
Tarun Kishore, a marketing consultant with the IPL team Rajasthan Royals said, "Sponsorships are not just having a logo on the uniforms, it is a lot beyond that. "Brands and our team create conceptual content for social media as well which creates impact. Red Bull was one of the main sponsors. So for our [Royals'] jersey launch in 2020, the guy [stunt man] came down of an aircraft [sic] with a parachute. Red Bull is known for such thrills and this year, another similar stunt will happen."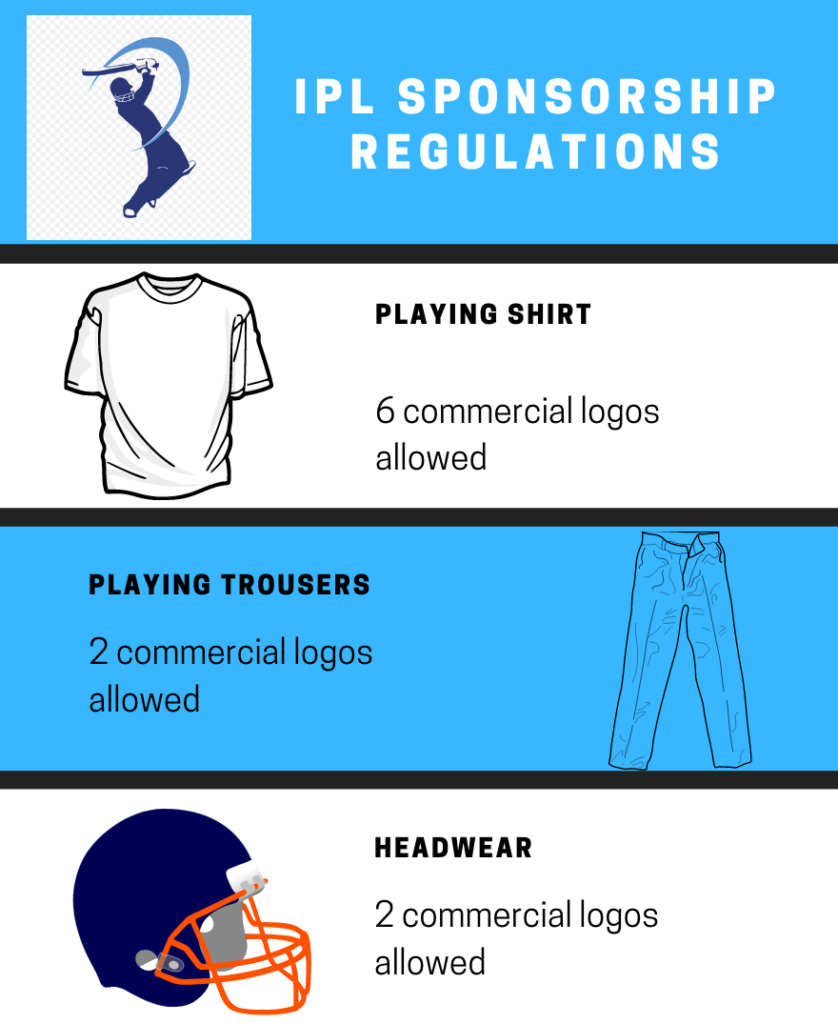 "We look at if the brand fits into our philosophy. The money and pricing obviously matter, but if there are synergies between the brand and what we stand for as a team, it makes a lot of sense [for us]," he explained.
The report states that cricket maintained the lion's share of overall sports media and sponsorships, with a 70 percent contribution. However, other sports are slowly gaining interest from viewers, broadcasters, and advertisers. Cricket was also a key contributor to gate fees with a 75 percent share of total gate fee revenues.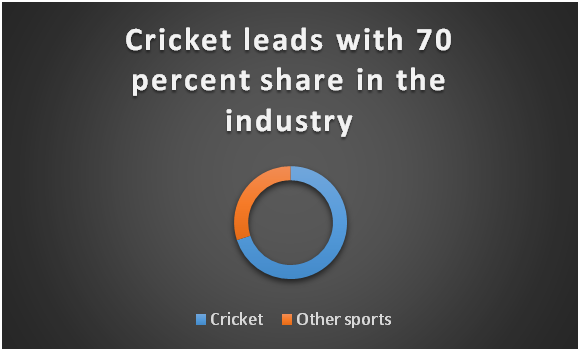 Akshay said, "Sponsoring a team in the IPL would be much costlier than sponsoring at Pro Kabbadi League (PKL). Multiple sports are yet to find their niche in the Indian market. There is no brand pull to the level of cricket. I feel there is a huge room for development there."
Another example of the sports industry in India, riding on cricket was the recently concluded Bengaluru Tennis Open 2022. There was no live coverage of the tournament despite the tournament being a part of the Association of Tennis Professionals (ATP) tour. Its highlights would be telecasted on DD Sports. And no gate fees were charged from spectators.
Parth Singh, media manager at Karnataka State Lawn Tennis Association said, "There was no gate fee charged from the spectators as according to the Government norms, we could accommodate only 50 percent of spectators and we wanted the tennis enthusiasts to just enjoy the action and watch some of the top players in action."
The report showed statistics for viewership of sporting events. Throughout 2016-2019, the viewership of sports on TV showed a growth of 89 percent. The rise was similar on digital platforms. For instance, there was a 1.5 times increase in unique visitors of IPL in 2019 over 2018. Similarly, a 2.3 times increase was seen in PKL. This resulted in a very high reach for the brands as well.
Kishore shared his experience of sponsoring Nine – a sanitary pad brand. "Nine had issues with their distribution channels. Their sales were very low. But their recognition and sales increased very well after they partnered with us. IPL has a very high reach," he said.
"While some brands partner with one team, a few brands such as Dream 11, partner with four to five teams. They maximize their visibility by doing so. And the brands do create an impact on the viewers through such sponsorships," he further said.
The sports media industry is estimated to reach ₹ 150 billion in 2024, but to grow at a slower CAGR of 9.5.
Besides the growth in ad spending on mainstream sporting events, spending on secondary sports is also expected to grow.
"Sports like Himalayan off-road racing, Continental Wrestling Entertainment (CWE), and other regional Greco Roman wrestling are significantly popular in regional areas. But due to a lack of interest from the Tier-1 audience, they do not make a revenue-generating product." Akshay said.
Akshay also believes that influencer marketing has a huge potential to grow over the coming years. "During the COVID-19 [pandemic], influencer industry grew significantly compared to traditional marketing. Slowly, influencer marketing is going to touch the ad-spends of traditional marketing, in the next five to 10 years."
The industry currently accounts for 0.1 percent of the country's gross domestic product (GDP). The contribution is lower than the global average of 0.5 percent. However, such growth of the industry will result in an increase in employment generation in the sports industry as well as a growth in the GDP of the country.